Women's Fashion Summer 2007 – Hot colors
By:
kelly price
We respond to color before anything else it's instinctive! So, use it correctly and it can be used fro dramatic effect. Here we will outline some hot colors and color combinations, that will be a feature of women's fashion choices in summer 2007.
Let's look at some hot colors and combinations for summer 2007.

1. Yellow

The color the Chinese associate with royalty and wealth is looking like being a big hit for the summer of 2007. If one color sums up summer days its yellow and there is a shade of yellow to suit all including:
Banana yellow, dazzling yellow, neon lemon, lemon lime.

Yellow is a strong color, but can be muted with Colors such as cream, black and grey.

If you want to stand out from the crowd pick strong bright yellows such as an acid yellow strong and dazzling with high energy is for.

You need to however be careful of the yellow you wear and match it to your skin tone - Those with fairer skin tones should stick to subtle pastels of yellow leaving bright yellows to darker and olive skinned wearers otherwise you will look washed out next to your clothing

2. Black and white

Black and white is a great combination and never seems to go away and for the summer of 2007 you will see a lot of it – it's a flexible combination that suits all.

Classic black and white blocks are in and you can add a splash of color such as red or a yellow to add a final touch.

3. Sharp color combo

Just as black is a sharp color combo you can also use blue try dark navy blue trimmed with red.

4. Royal Blue

Royal blue is THE Blue to wear for the summer.

The good news is you can choose any item of clothing you like and they will all look great:
Cotton tops, blouses, mini-skirts, shoes, purses, bags will all look great in this color all in this wonderful royal color.

If you love this color, you can make it the star of your outfit, by enriching your wardrobe with a dress in this fantastic color.

Unlike yellow this is a much easier color to wear and you don't need to worry about your skin tone hair color or anything else for that matter – it's a great color for all women.

The catwalks of the world have already featured this color in all its glory and you can to!
This is simply a summer essential and a royal blue dress offers a flexible item of clothing for both work and evening wear.

5. Gold & Silver

Gold and sunshine go together and gold shimmers and can really make you stand out from the crowd.
Gold is glamorous, sexy and futuristic.

Silver has the same effect as gold and has been popular throughout 2007 and will still maintain its popularity this summer.
To get into silver or gold, try a bag and shoes combo and set them off with Black and blue dress respectively.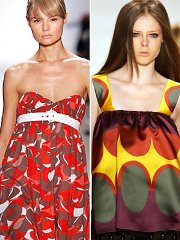 6.
Floral Colors
Are back in a big way this season and offer a warm and sunny look
Floral motives and warm color pinkish nuances, have been a feature with all fashion designers covering shoes, shirts, dresses and handbags.
Try a silk for floral top for comfort and class or the ultimate in femininity, a short floral dress with high heels - perfect for that romantic meeting on a summer evening.
Summer is here! So use the colors above to create some great looks and enjoy the warm days and evening to their fullest.
---