Sunglasses are like any other fashion accessory. With each passing season, sunglass styles change. Old styles become the kind of sunglasses that "your grandmother used to wear," while newer styles can be seen on the faces of Hollywood stars and glamour queens on magazine covers and at red-carpet events. Eventually those old styles stage comebacks as "retro" sunglasses, and the fashion cycle comes full circle.
All these comings and goings may seem a bit confusing. We're only talking about sunglasses, right? And what if you're content with the same pair of aviator shades that you've worn for 15 years? Hey, nobody is arguing with that.
But what we can help you with is to give you a crash course on the top shade styles for 2006. So if you guys want to look like Heath Ledger on the beach, or if you ladies want to impress your new boyfriend by wearing the same pair of shades as Jessica Simpson, here's how!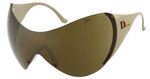 Some of the hippest sunglass styles continue to be the oversized type. Sometimes these shades can look like they take up half of your face. But all the starlets and stargazers are wearing them, whether on the sand or on the way to the supermarket. Try some of the newest versions of the oversized genre, such as the "bug eye" look or "wide-line" styles that can actually fit over your prescription eyeglasses.
What about retro? Well, the classic "Jackie O" look—sleek, dark plastic frames with that rounded '50s look—is making a comeback, as well as the popular 80's wayfarer look. The ultimate in classic sunglasses, the aviators made famous in movies like "Top Gun", are revisiting runways too. For men, aviator types may have never gone out of style, but women's aviator sunglasses are the new rage. New aviators come in all colors including classic black, brown, gold, and silver, as well as pink, blue, green, and "gun metal" frames.
As for colors and textures of today's top sunglasses, keep your eyes out for the newest designers that feature animal skin and lizard leather textures, crystal-jewel touches, or even mother-of-pearl inlays. Even sunglasses' carrying cases can be glamorized with touches of gems, dangling doodads, or the designer's logo.

One of the top new lines of sunglasses of late has been aimed specifically at athletes, and not just the pros on the beach volleyball courts, ski lifts and golf courses need to wear them. These shades can benefit any athlete, pro or weekend warrior alike. They usually come with polarized lenses to protect against glare, and many times their lenses darken or lighten depending on the light. One of the top features of athletic sunglasses is their interchangeable lens systems—so no matter the weather or sport you find yourself in, you can switch out to the correct lens type.
All of these hot sunglass styles and many more are available at local retail shops near you.